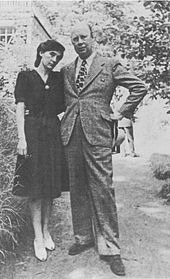 Dictatorial societies are notorious for fostering environments of suspicion and fear. It is always chilling to read Aleksandr Solzhenitsyn's three-volume narrative The Gulag Archipelago. Solzhenitsyn relied on eyewitness testimony and primary research as well as his own experiences as a prisoner in the Soviet gulag labor camp system. A simple denouncement by a jealous or unhappy neighbor or acquaintance was sufficient to make you disappear into the icy expanse of Siberia. On 20 February 1948, the secret police arrived at the Prokofiev household at 2 in the morning and arrested Lina Prokofiev. Accused of espionage she was tortured and eventually sentenced to 20 years of hard labor in the Siberian gulag. At some point it was speculated that Maria-Cecilia Abramovna Mendelssohn, who had married Sergei Prokofiev just five weeks prior, might actually have instigated Lina's arrest. It may well have been nothing but slanderous gossip, but things had been complicated for some time.

Sergej Prokofiev: Piano Sonata No. 8, Op. 84
Mira Mendelssohn, the only child of a Jewish professor in Kiev, came to Moscow to study at the Gorky Institute. When she met Prokofiev in the summer of 1939 she was exactly half the composer's age. He was 48 and she was 24, and after a couple of romantic strolls and cuddles, Prokofiev was in love. Prokofiev encoded his newly found happiness almost immediately in music. He set one of Mira's poems in the cycle Seven Songs of 1939, and dedicated his famous Piano Sonata No. 8, which was also conceived in 1939, to his new love as well. Unlike Lina, Mira was not a great beauty eager to be loved by all. Instead, she had an unassuming personality and was perfectly happy in her role as Prokofiev's quiet and supportive companion. And Prokofiev, tired of chasing one rare beauty after another, suddenly realized that Mira was the kind of woman he had longed for all his life. And since his marriage to Lina had deteriorated beyond hope, he left his wife and their two sons in 1941. Prokofiev lived openly with Mira for the next couple of years, and she acted as his secretary, librettist, and literary advisor. Prokofiev did ask Lina for a divorce, but was told in no uncertain terms that he would never get it!

Yet somehow, on 13 January 1948 wedding bells were ringing for Sergei and Mira! Since Lina stubbornly refused to grant Prokofiev a divorce, he had to rely on an obscure 1944 Soviet law that all existing marriages had to be registered with the Census Bureau. Since the Prokofiev's had never gone through the trouble of registering their marriage in the USSR, the union was annulled and Sergei was legally free to marry Mira without the divorce. Lina was arrested merely five weeks later, which led to speculations that Mira was actually an agent for Stalin's secret police with a dedicated assignment to keep tabs on the independent-minded Prokofiev. It was suggested that the authorities only agreed to the Sergei and Mira marriage in order to imprison the foreign-born Lina. Such speculations clearly lack substance, but with Lina shipped off to Siberia, Mira took her place on Prokofiev's side. A philologist by profession and a talented poet to boot, Mira wrote the libretto to Prokofiev's last operas, including the monumental War and Peace based on the Tolstoy classic. Prokofiev suffered a debilitating stroke in 1949 and Mira gently nursed him back to life. Doctors forbade Prokofiev to do any kind of work and sensing the end, Sergei told his wife to put his affairs in order. On 5 March 1953 Prokofiev complained about feeling cold and sick. An ambulance was called, but a final deadly stroke killed him almost instantaneously. Mira worked on Prokofiev's legacy, cataloguing his musical manuscripts and writing several articles about him, with Soviet censorship preventing her from reporting on their personal life together.