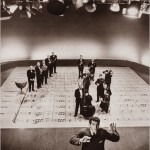 Imagine this: you drop onto the sofa on a Sunday afternoon, switch on the TV and see a dapper young man with a baton standing before an orchestra and demonstrating the patterns conductors use to lead music in different meters — two, three, four and five beats to the bar.


He directs his players in a few examples, bits of Beethoven's Ninth and Schubert's Eighth Symphonies, Prokofiev's "Peter and the Wolf," Waldteufel's "Skater's Waltz." Then he ups the ante, showing how these simple gestures, with subtle modification, are used to coax a fluid, lyrical performance; a playful reading; or an urgently dramatic interpretation from an orchestra.
For 48 minutes, this young conductor — Leonard Bernstein, caught on film in 1955 — brings you into the musician's world, talking about how tempo, dynamics and phrasing express a conductor's feelings and beliefs about a piece, and how that expressivity affects a listener's perception of the music. And he offers you a glimpse of his preparation for a performance.
"Take this opening bar of the Brahms First Symphony," he says, and then conducts it. "There are 55 notes in it, being played by 100 instruments, and the conductor has to know them all, or he has no right to ascend the podium in the first place. And this is only one bar out of 1,260 in this symphony."
Even with hundreds of cable channels to choose from today, the likelihood of running into a show like this is slim. But in the 1950s, when American television viewers had three major networks to choose from — CBS, NBC and ABC — classical music was a part of the standard programming mix. Bernstein's conducting demonstration was one of seven appearances, now on DVD, that he made on "Omnibus," a 90-minute program that offered segments on science and the arts, particularly music and theater. It ran from 1952 to 1961, and migrated across the networks, from CBS to ABC in 1956, and to NBC in 1957.
For a Bernstein fan, this set of appearances, just released by E1 Entertainment (on four DVDs), is a landmark in the development of Bernstein's public persona. Having become a household name after his celebrated New York Philharmonic debut in 1943, when he filled in at the last minute for Bruno Walter in a performance that was broadcast (on radio) nationally, he had not yet written most of the music for which he is known, including "West Side Story," and he did not take up the directorship of the Philharmonic until 1958, the year of his final "Omnibus" appearance.
But besides composing and conducting, Bernstein was a champion talker about music, and these "Omnibus" appearances, which range from 33 to 76 minutes, were his first opportunities to try out his lecture style on television. The more famous Young People's Concerts, with the New York Philharmonic, began in January 1958, just two months before his final "Omnibus" appearance, and ran through 1972. A hefty selection is available on DVD, as are the Norton Lectures, "The Unanswered Question: Six Talks at Harvard" (both on Kultur), from 1973.
Though the "Omnibus" programs have been seen only rarely since their original broadcasts, their substance is well known: Bernstein's scripts account for 231 pages of his 1959 essay compilation, "The Joy of Music" (Amadeus).
Not everyone admired this professorial-rabbinical side of Bernstein. By the end of his tenure at the Philharmonic, members of the orchestra complained about his tendency to morph into a lecturer during rehearsals and concerts. And Tom Wolfe, in his 1970 essay "Radical Chic," offered a devastating gloss on Bernstein in teaching mode.
"Anyone who has spent a three-day weekend with Lenny in the country, by the shore, or captive on some lonesome cay in the Windward Islands knows that feeling," Mr. Wolfe wrote, "the alternating spells of adrenal stimulation and insulin coma as the Great Interrupter, the Village Explainer, the champion of Mental Jotto, the Free Analyst, Mr. Let's Find Out, leads the troops on a 72-hour forced march through the lateral geniculate and the pyramids of Betz, no breathers allowed, until every human brain is reduced finally to a clump of dried seaweed inside a burnt-out husk and collapses, implodes, in one last crunch of terminal boredom."
Yet there is much to be said for how the "Village Explainer" made the details of music and music making accessible, usually without dumbing down, to a broad audience. Even the Young People's Concerts, in which you might expect simplification, have a lot to tell adults, including practicing musicians.
That said, nearly half the "Omnibus" appearances — those dealing with modern music, Bach and grand opera — proceed from a predictable rhetorical position: "I know you don't like this music, but I love it and I'm going to show you why you should too."
An open-hearted paean to jazz, in its many forms, offers a variant, to the effect that people who do not consider jazz to be art music are missing something profound. Mostly, he is a persuasive, one-sided debater.
The effort undertaken by the "Omnibus" production team (particularly Henry May, the production designer and art director) to find creative ways to stage a program about music's nuts and bolts is especially striking. In the first, "Beethoven's Fifth Symphony," the stage floor is a greatly magnified reproduction of the score's opening page. When Bernstein discusses the work's instrumentation and how Beethoven used it — he points out, for example, that Beethoven deleted the flute from the work's opening signature figure because a flute is a "feminine" sound, and Beethoven wanted "masculine" heft — he has single players, with their instruments, line up in the order they appear on the page.
Bernstein's lecture touches on points you will expect, if you've heard him hold forth on Beethoven elsewhere. He tips his hat to the notion of Beethoven as music's supreme genius, and the declaration that every note he wrote seemed the inevitable successor to the note before it.
But speaking as a composer — and there is a good deal of sub rosa, idealized autobiography in these programs (see the quotation about how thoroughly prepared conductors must be) — Bernstein is intent on demonstrating that the inevitable doesn't just happen. It comes from intense work.
To show this, he restores a handful of Beethoven's discarded sketches to the score so that we can hear how the Fifth would have sounded if Beethoven had retained his first (or second or 10th) thought. Some discarded passages are surprisingly workaday; others are interesting but lack the drama found in the music that eventually replaced them. The message Bernstein leaves you with is that in composition, process — trial and error, writing and revision — is everything.
Technically, the "Omnibus" recordings are slightly dicey: they are kinescopes, with their inevitable distortions (and, in some cases, abrupt cuts when the film ran out), and the soundtracks are muddy at times.
You must also take some of the information (though not generally Bernstein's) with a grain of salt. Introducing a performance of the Christmas sections from Handel's "Messiah," offered here as a bonus segment (the distinction is that Bernstein does not speak), the program's genial host, Alistair Cooke, says that Handel was impoverished and unpopular when he composed the work, and that when he completed it, he put the score in a drawer because, at the time, no one wanted to sing or play his music. Yikes! Not a word of that is true.
Bernstein's talks can seem a bit dated too. It sounds odd to hear, in "The Music of J. S. Bach," special pleading for a composer who is now so widely beloved. But Bernstein, speaking in 1957, was addressing listeners who regarded Bach as dry, the province of Sunday church services and specialist early-music groups.
The case he makes for Bach holds up. Using a few chorales and a section of the "St. Matthew Passion," he shows how Bach's counterpoint works and touches on other technical details, but is mainly intent on demonstrating that once you know Bach's language, the emotion and drama within his music are irresistible. And persuading listeners that music is irresistible — and how and why — is what Bernstein was all about.

Allan Kozinn | February 15, 2010
Weblink: www.nytimes.com/2010/02/16/arts/music/16bernstein.html