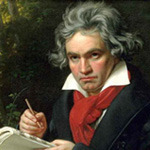 Scientists began speculating about what really killed Ludwig van Beethoven almost as soon as he was buried in 1827. He had complained of a "wretched existence," with a long list of symptoms: abdominal pain, digestive trouble, colic, chronic bronchitis, foul body odors and extremely bad breath. And of course there was the hearing problem.


Thirteen years ago scientists, including one who had investigated whether Napoleon died of arsenic poisoning and whether the paint on the Shroud of Turin dated to the time of Jesus, tested strands of Beethoven's hair and ruled out syphilis as the cause of death. Unexpectedly, they found signs of acute exposure to lead.
Five years ago tests on different strands of Beethoven's hair and a tiny piece of his skull again pointed to lead. That, Beethoven scholars said, could have explained his infamous temper and his occasional memory slips. Some figured he had drunk too much cheap wine that was sweetened — in the custom of the 19th century — with lead to hide the bitterness.
But last week a lead-poisoning expert at Mount Sinai School of Medicine in New York tested the same piece of Beethoven's skull that had been examined in 2005, along with another, larger, fragment. The researcher, Dr. Andrew C. Todd, said that over all he had found no more lead than in the average person's skull.
"Beethoven didn't have long-term high lead exposure," Dr. Todd said, "so I think we can stop looking at lead as being a major factor in his life."
Dr. Todd's findings at Mount Sinai surprised Dr. William R. Meredith, a Beethoven scholar who had carried the skull fragments to New York from his base in California. He said he had expected Dr. Todd's tests to show elevated lead levels, because the previous tests had reported the amount in Beethoven's hair as well above normal.
"It's back to the drawing board for the scientists and the doctors," Dr. Meredith said.
He said the value of Dr. Todd's tests was that they told how much — or, as it turned out, how little — lead was in the skull fragments. Dr. Todd had promised precise measurements, and after two days of tests at Mount Sinai, he said that the larger of the two skull fragments had 13 micrograms of lead per gram, "not markedly above what we would expect" in a man of Beethoven's age, 56.
The smaller fragment registered considerably more — 48 micrograms per gram — and he could not explain the difference. Lead exposure is cumulative, Dr. Todd said, so the level can be expected to increase as a person ages, even if he or she is not exposed to abnormal concentrations from, say, lead paint.
Dr. Meredith said that if the tests did not show what had killed Beethoven, at least they indicated what to rule out as a cause of death.
"People ask whether he died from drinking plum wine, from chewing on his pencil, from eating fish that were poisoned," said Dr. Meredith, a professor at San Jose State University and the director of the Ira F. Brilliant Center for Beethoven Studies. "Now we know all of those questions are unnecessary. We don't need to go fishing around for toxic exposure to lead."
Dr. William J. Walsh, a forensic researcher in Illinois who coordinated the earlier tests, noted that Dr. Todd had tested only skull fragments, not the hair samples. But he agreed with the notion that Beethoven's exposure to lead was a short-term problem that had come toward the end of his life.
Like Dr. Walsh's tests, some of which were conducted at the Argonne National Laboratory in Illinois, the Mount Sinai analysis involved multiple measurements with X-ray fluorescence. Dr. Todd said the matter in the skull was similar to the matter found in leg bones that he studies to determine whether someone has lead poisoning. The condition is known to cause irritability, low energy, headaches and to make muscles seem weak: all symptoms consistent with Beethoven's.
At 56, Beethoven had health problems. He had undergone several abdominal taps to drain fluid, and by the time he died, one treatment was fruit drinks. His doctor "had noticed — or maybe long known — that Beethoven was a lover of fortified wines," the biographer Edmund Morris writes in "Beethoven: The Universal Composer" (HarperCollins, 2005).
"Predictably," Mr. Morris continues, "Beethoven abused his prescription, and became drunk and diarrhetic."
Some modern doctors maintain that there were signs of coronary disease. Others wonder about lupus.
"His last years were so miserable," said Susan Kagan, a pianist, Beethoven scholar and professor emeritus at Hunter College in New York. "He suffered physically so very much. There's one cry of pain after another in his letters. I don't know if he was mistreated by doctors, but they didn't know very much in those days, compared to what they know now. Pouring hot oil into his ears: can you imagine what that must have felt like?"
Beethoven's body was exhumed in 1863, along with that of Franz Schubert, who had been buried in the same cemetery in Vienna. "The main goal was, of course, the retrieval of the skulls," wrote a friend of Beethoven's who took several pieces of the composer's skull home and proudly placed them by his bedside. Among them were the two that Dr. Todd tested at Mount Sinai.
"What we found does not undermine the possibility that he was acutely intoxicated with salves that were put on the abdominal wound," Dr. Todd said. But, he added, that would not have killed him.


James Barron | May 28, 2010
Weblink: http://www.nytimes.com/