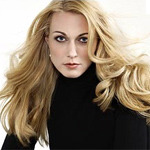 BERLIN — Rumors that German film-maker Wim Wenders will stage "Der Ring des Nibelungen" for Wagner's 200th anniversary at Bayreuth in 2013 are soon to be confirmed. Katharina Wagner has told the German newspaper "Die Welt" that the festival is in the midst of negotiations.


"I am convinced that we will come to an agreement even though we are still working out details," she said. "In every discussion we have experienced someone who is highly interested and educated in theater and opera."
She explained that the festival was looking for someone intelligent and reputable who could make a fast career switch to approach Wagner with fresh ideas.
"Wenders has always understood music as a central element in his work," she said. "He knows what he is talking about and what he is getting into."
In inviting Wenders, Katharina continues a relatively recent Bayreuth tradition of hiring film directors with no opera experience. The 65-year-old film director — whose credits include "Wings of Desire" and the "Buena Vista Social Club" – joins the ranks of Patrice Chéreau, who staged the "Ring" production launched in 1976, and Lars von Trier, who had never even seen an opera when he signed on in 2004. Von Trier, however, abruptly resigned from the 2006 project, saying that it exceeded his powers and would not allow him to live up to "his own high standards and the special standards of the Bayreuth festival."
The 2006 "Ring" directed by octogenarian German playwright Tankred Dorst, who also had never directed an opera, was largely considered a major failure, so hopes are high for Wenders' success. Kirill Petrenko is lined up to conduct in his Bayreuth debut.


Rebecca Schmid | January 11, 2011


Weblink: http://www.musicalamerica.com/
Photo credit: http://www.topnews.in/