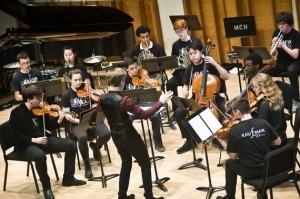 Many critics and skeptics have made the bold claim that classical music is dead.

It's true that classical music isn't what it used to be — but neither is music in general. It isn't consumed in the same way and its dedicated fan-base is primarily white and old in a country whose population is increasingly neither.
It is also no secret that financial troubles have plagued the genre. The Philadelphia Orchestra, for example, declared for bankruptcy in 2011; New York City Opera filed in 2014, ultimately shutting down, and Boston Classical Orchestra canceled the remainder of its 2015-16 concert season after bankruptcy. Additionally, Chicago, San Francisco and Minnesota symphonic orchestra musicians have all gone on strike in recent years after failing to resolve contract disputes. Full story.
Lydia Kontos (Huffington Post) / November 15, 2016

Weblink : http://www.huffingtonpost.com/
Photo credit : http://www.huffingtonpost.com/