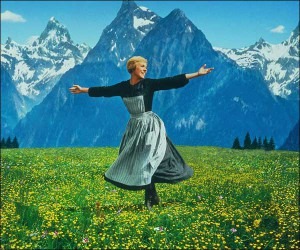 SALZBURG, Austria (AP) — Toes in Salzburg are tapping to a new beat as residents finally embrace the Hollywood musical that put them on the map nearly half a century ago.

Playing for the first time in this haughty town of opera lovers, "The Sound of Music," has been met with surprisingly positive reactions in what is commonly considered a last bulwark of resistance to the iconic show.
"A wonderful performance," enthused Johann Fink as he waited at the coat check at the end of a recent performance at the ornate Salzburg State Theater.
Such a reception in Salzburg is hardly a given despite the global popularity of the musical that was based on a true story and immortalized by the 1965 multiple Academy Award winning movie.
Fans around the world may know every word of every song performed by Julie Andrews as the governess of seven children who charms — then weds — their widowed father Baron von Trapp, before the singing family flees the Nazis.
But this city resonates to another sound of music — the music of Mozart, Beethoven, Brahms.
And it has a different concept of culture.
While residents earn millions each year from the tourists who come for sing-along tours of sites featured in the film, they traditionally view the visitors with benign disdain — and occasionally as pests.
Residents of the upscale Salzburg neighborhood where the von Trapp home is located tried — and failed — to block attempts to turn the edifice into a hotel, fearing tourists would tie up traffic and make a nuisance of themselves. A museum dedicated to the film is still looking for a home after more than 600 residents in another neighborhood signed a petition three years ago against it, telling the city council they feared that local streets would be jammed with tour buses.
Resistance persists even though the city would literally be poorer without the musical's magnet effect.
Peter Proetzner, who guides daily bus-fulls of tourists on pilgrimages of the sites immortalized by the film, cites a poll showing the Sound of Music as the city's second biggest draw — right after the dozens of classical music events that resonate through its cobblestoned alleys.
"The Sound of Music is better known than Mozart worldwide," he asserts.
South Koreans learn the songs as part of their English lessons. Some foreigners think "Edelweiss" — composed for the musical by Richard Rodgers and Oscar Hammerstein — is Austria's national anthem. And Austrian tourism surveys show that three out of four American visitors to Salzburg come because of the musical.
Australian Dianne Cole says she knows "absolutely nothing" about Austria — and will probably go home still ignorant of the country's cultural, scenic and culinary delights.
"This is why I came to Austria," she said recently, as her Sound of Music tour bus set out for its first stop — Leopoldskron Lake (where Maria and the children capsized their boat). "The sole reason is to do this tour."
In contrast, most Salzburgers don't even know the musical. In a city that traditionally raps American culture as trashy, residents prefer to be associated with Mozart, Salzburg's favorite son, instead of a film many write off as Hollywood kitsch.
And then there is the troubling Nazi component of The Sound of Music — a reminder, reinforced by the Swastika flag and storm troopers on stage, that not only Mozart, but Hitler, too, was Austrian.
Austria has long shed its self-fabricated myth that it was a victim of Nazi atrocities instead of one of its most fervent supporters. Restitution panels have returned homes and precious artworks. Millions of euros (dollars) have been doled out to Holocaust victims and their descendants, and schoolbooks now deal in depth with this nation's complicity in the crimes of the Nazi dictator, born just 50 kilometers (30 miles) north of Salzburg.
"I think that this is truly the right moment in time, when Austrians are actually ready to deal with their past," says Andreas Gergen, who directed the German-language production.
Still, anti-Semitic sentiment remains. A survey of 1,070 Austrians conducted earlier this year showed that 12 percent want their country "free of Jews." Backed by the country's neo-Nazi fringe, the country's rightist FPO party is the second-strongest in the country — although it now exploits Islamophobia instead of anti-Jewish sentiment.
And the sight of Nazis on stage may remind some older audience members of uncomfortable historical facts. Over 99 percent of Austrians voted in favor of their country becoming part of the Third Reich in 1938; proportionally more Austrians than Germans were Nazi party members, and many of Hitler's closest henchmen were Austrians.
Like the Salzburg version, the first full Austrian showing in Vienna in 2005 featured actors dressed as Nazi storm troopers standing guard at exits and a theater box filled with mock Nazi dignitaries — clearly too painful for some. Back then, some elderly audience members who last witnessed brown-shirted men wearing swastika arm bands as children were so troubled they hastily left the theater without watching the performance.
Six years later, reactions to the Nazi theme are mixed.
"Of course it's not so pleasant for us Salzburgers to be confronted with it," said Judith Herbst. But the smartly dressed woman in her mid 60s said that as far as she was concerned the role of Austria in Hitler's crimes was no longer debatable.
For others, though, the sight of men in forbidden Nazi garb entering the theater remains traumatic.
"It was horrible for a moment — almost unbelievable," said theatergoer Fink. "Thank God this era is in the past!"
But there were no gasps of dismay regarding the rest of the show.
Some hummed its ear-candy melodies at the coat check after the performance.
"Kitsch? I was afraid that would be the case," said Helmi Popeter. "But once you see it, you realize that's not so."


George Jahn (MusicalAmerica.com) / November 25, 2011


Weblink : http://www.musicalamerica.com/
Photo credit : http://www.the-sound-of-music-guide.com/