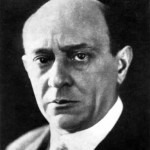 Modern classical music is so widely disliked by audiences because the human brain struggles to find patterns it needs to understand the compositions as music.


For decades critics of modern classical music have been derided as philistines for failing to grasp the subtleties of the chaotic sounding compositions, but there may now be an explanation for why many audiences find them so difficult to listen to.
A new book on how the human brain interprets music has revealed that listeners rely upon finding patterns within the sounds they receive in order to make sense of it and interpret it as a musical composition.
While traditional classical music follows strict patterns and formula that allow the brain to make sense of the sound, modern symphonies by composers such as Arnold Schoenberg and Anton Webern simply confuse listeners' brains.
Philip Ball, author of The Music Instinct, has drawn on the latest scientific findings from neuroscientists to show structure and patterns in music are a fundamental part of musical enjoyment.
He said: "Many people still seem to find modern classical music challenging. If that is the case, then they can relax as it is challenging for a good reason and it is not because they are in some way too musically stupid to appreciate it.
"The brain is a pattern seeking organ, so it looks for patterns in music to make sense of what we hear. The music of Bach, for example, embodies a lot of the pattern forming process.
"Some of the things that were done by those composers such as Schoenberg undermined this cognitive aid for making music easier to understand and follow. Schoenberg's music became fragmented which makes it harder for the brain to find structure.
"That isn't to say, of course, that it is impossible to listen to, it is just harder work. It would be wrong to dismiss such music as a racket."
Mr Ball believes that many traditional composers such as Mozart, Bach and Beethoven subconsciously followed strict musical formula to produce music that was easy on the ear by ensuring it contained patterns that could be picked out by the brain.
In the early twentieth century, however, composers led by Schoenberg began to rally against the traditional conventions of music to produce compositions which lack tonal centres, known as atonal music.
Under their vision, which has been adopted by many subsequent classical musicians, music no longer needed to be confined to a home note or chord.
But such atonal music has been badly received by audiences and critics who have found it difficult to follow.
Professor David Huron, an expert on music cognition at Ohio State University, has studied some of the underlying reasons why listeners struggled with such modern classical pieces.
He said: "Much of what the brain does is to anticipate the future. Predicting what happens next has obvious survival value, and brains are remarkably adept at anticipating events.
"We measured the predictability of tone sequences in music by Arnold Schoenberg and Anton Webern and found the successive pitches were less predictable than random tone sequences.
"For listeners, this means that, every time you try to predict what happens next, you fail. The result is an overwhelming feeling of confusion, and the constant failures to anticipate what will happen next means that there is no pleasure from accurate prediction."
Dr Aniruddh Patel, a researcher at the Neurosciences Institute in San Diego, California, said that tonal music such as traditional classical music uses some of the same mechanisms needed for processing language.
"This may be one reason such music is congenial to the human mind," he said. "It may be a reason why atonal music is more difficult when first encountered."
Dr Timothy Jones, deputy principal at the Royal Academy of Music, said: "Mozart and Bach have similar levels of complexity as Schoenberg, but those complexities are in different musical domains. Their music is very information dense.
"I would question how much of the familiarity with the music of Mozart and Bach has to do with culturalisation rather than an innate cognitive inability to understand the music of composers like Schoenberg. Certain people can learn to appreciate it."
Research has shown that listening to music is a major cognitive task that requires considerable processing resources to unpick harmony, rhythm and melody.
Recent studies by Professor Nina Kraus, a neuroscientists at Northwestern University in Evanston, Illinois, have shown that the electrical activity inside the brain while listening to music closely matches the physical properties of sound waves.
Using brain scanning equipment Professor Kraus, who presented her findings at the American Association for the Advancement of Science in San Diego on Saturday, said the brainwaves recorded from volunteers listening to music could be converted back to sound.
In one example where volunteers listened to Deep Purple's Smoke on the Water, when the brainwaves were played back the song was clearly recognisable.
She said: "When we play the brainwaves back as sound, although they don't sound exactly like the song, it is pretty similar. It shows that the brain matches the physical properties of sound very closely."

Richard Gray | February 20, 2010
Weblink: www.telegraph.co.uk/science/science-news/7279626/Audiences-hate-modern-classical-music-because-their-brains-cannot-cope.html
Photo credits: bandroom.com