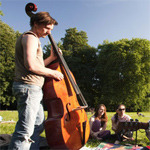 ON a recent Saturday night in Connewitz, an emerging neighborhood of artists and students in Leipzig, Germany, the streets were buzzing. At Werk II, a former factory complex, a group of hoodie-clad 20-somethings drank beer in a cobblestone courtyard, waiting for the Canadian indie rock band Wolf Parade to perform after a guitar-heavy set from the Dutch band We vs. Death.


Next door at UT Connewitz, a crumbling, early 20th-century cinema turned intimate music hall, Mohna, a German performer whose songs are set to a hybrid of folk and electronic music, was about to step onstage. Outside, on Wolfgang-Heinze-Strasse, three heavily pierced student-types in studded jackets were hurrying toward Conne Island, one of Leipzig's better-known music venues (a bit like CBGB in the good days), where the Aggrolites, a hard-core reggae group from Los Angeles, was performing.
Leipzig doesn't call itself the City of Music for nothing.
But when the city's tourism office uses that title, it is referring to the grand past, when Leipzig nurtured the likes of Johann Sebastian Bach (a choirmaster at St. Thomas Church in the city for more than 25 years), Mendelssohn (who founded Germany's first conservatory here) and Robert and Clara Schumann, whose house is now a museum.
This year is the 325th anniversary of Bach's birth, and Leipzig is celebrating with concerts, festivals and the reopening of the newly designed Bach Museum. Perhaps, if he were living in Leipzig today, Bach would be composing experimental electronic dance music. In the last two years, this city of about half a million residents — many of them students at the 600-year-old University of Leipzig — is where some of the most innovative house and techno music is being created.
"The music scene here is as good as those in other, bigger cities like Cologne or Berlin, but everyone knows each other. It's not commercial," said Matthias Puppe, the founder of Pop Up Leipzig, an annual alternative music trade fair and festival.
The Sweden-based folksinger Bjorn Kleinhenz agrees. "Leipzig is definitely my favorite city in Germany to play in. It seems the music scene there is still very untouched by cynicism and speculation," he said. "I get the impression people really just want to enjoy good live music."
But the city's affinity for the arts goes well beyond music. "Leipzig is a town of students, musicians and artists," said Gerd Harry Lybke, the owner of Eigen + Art, one of the most influential galleries in Germany, with locations in Leipzig and Berlin. Mr. Lybke is often credited with placing Leipzig on the global art scene about 10 years ago by promoting the now much-hyped New Leipzig School.
This year, Neo Rauch, the "father" of this group of neo-realistic painters and considered one of Germany's greatest living artists, is being feted with parallel exhibitions: one at Pinakothek der Moderne in Munich and a retrospective at the Leipzig Museum of Fine Arts, both through Aug. 15.
Mr. Lybke compared Leipzig to Berlin in the early 1990s. "In Leipzig, you can wake up one morning and decide, 'I'm an artist,' or the next day say, 'I think I want to be a journalist,' " he said.
This palpable sense that anything is possible is due partly to the city's dirt-cheap rents: grand turn-of-the-century, 600-square-foot, one-bedroom flats go for as little as 300 euros a month (about $360 at $1.20 to the euro).
But only in recent years has Leipzig become a desirable place to live and visit. A few decades ago, it was a city to be avoided: a polluted, soot-covered town known mostly for its book publishing industry and the trade fairs that have been held there since the Middle Ages. Now the surplus of abandoned factory buildings, which had produced mechanical parts for products like watches and cars, and textiles, is a boon, attracting creative entrepreneurs, artists and musicians who have reclaimed the old spaces.
"There's an underground party or event in an abandoned factory or building every weekend here," Mr. Puppe said.
Even in Leipzig's beautifully restored small historic center, a few buildings with boarded-up or broken windows remain.
Perhaps the city's most successful example of an old factory reinvented by artists is the Spinnerei, a cultural complex in a former cotton-spinning mill. The sprawling collection of brick buildings is now home to a cafe, a quirky new pension called the Meisterzimmer, artists' studios (Mr. Rauch has one here) and 11 galleries, including Mr. Lybke's Eigen + Art, a pioneer in the space. Located in the district of Lindenau, west of the city center, the Spinnerei has spawned a small but lively gallery scene in the area, which includes the nonprofit art space D21.
At this year's Gallery Tour Weekend in May, an estimated 15,000 visitors explored the Spinnerei. A week later, the five artists living and working in the third-floor studios that belong to the Leipzig International Art Program, or LIA, which sponsors artists in residence, were recovering from the packed event. The Israeli artist Etamar Beglikter's cut-out black-and-white pieces still hung on the rough concrete walls of the atelier's communal space, along with a colorful abstract painting by the Swiss artist Vincent Kriste. The photographer Ksenia Galiaeva, a Russian living in Amsterdam, had all her latest works displayed in her studio: photos and paintings saturated with exaggerated colors, many of them featuring her parents posing in the garden of their dacha.
Ms. Galiaeva and the Japanese artist duo Mai Yamashita and Naoto Kobayashi said that during their months as artists in residence they explored some of the city's many green spaces. Despite Leipzig's industrial history, approximately a third of the city's landscape is parks and gardens, the largest being the Auenwald, about 22 square miles of fields and flood-plain forest in the heart of town.
"One of the things that makes Leipzig so unique is that it has seamlessly wedded nature with a vital art scene," wrote the American artist Kylie Manning, in an e-mail message. "Canals and parks weave through abandoned buildings and cafes playing live music," continued Ms. Manning, who took part in the LIA program last year. "It is both haunting and stimulating."
You can count the city's affordable dining scene as another surprise.
In Leipzig, not only are the artists not starving, they are eating well. Hotel Seeblick, a retro-styled hangout popular with the music crowd, offers excellent burgers and comfort food like carrot salad with apple and a balsamic tahini dressing for about 6 euros each. The daily lunch specials at the Versorgung garden cafe in the Spinnerei attract savvy local residents with a taste for art and home-cooked German food. Unlike other insider restaurants in cities like Berlin or Hamburg, where regulars might stare down outsiders, these places felt welcoming.
But then, Leipzig has a history of welcoming strangers, at least according to Mr. Lybke. "In the middle of nowhere, between Frankfurt and Prague, we were the marketplace where travelers met," he said, adding that "the second time you come to Leipzig, you are considered one of us."


Gisela Williams | July 1, 2010
Weblink: http://www.nytimes.com/