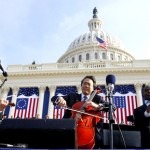 Part of the genesis of my Yo-Yo Ma feature on Sunday was my curiosity about how artists deal with the responsibilities of assuming a political role.


I make a distinction, here, between taking on a self-appointed function as a spokesman for human rights or Darfur or green living or whatever cause you believe in, and achieving a stature through your work that leads to your being regarded as a figure of authority.
Obviously, there are artists who have crossed the line and gone into politics altogether: Ignacy Jan Paderewski, the pianist who became Prime Minister of Poland, and Vaclav Havel, the playwright who became president of Czechoslovakia and then of the Czech Republic, are two obvious examples. But I was curious about artists who find themselves for one reason or another in a figurehead position: like Casals, whose refusal to perform under Franco made him a symbol of heroic resistance, or Rostropovich, whose political beliefs led to exile from his own country and a resulting sense of moral authority. Once you've won that authority, what is your responsibility to use it, and how?
Some artists seek out a political role — like Daniel Barenboim with his West-Eastern Divan Orchestra — or feel compelled to speak out about their beliefs when their work places them in a position that seems to call them into question (as Leon Fleisher did after winning the Kennedy Center honors in 2007). There's certainly a tacit assumption that artistic prominence and social activism are linked in, for instance, program-cum-awards like the U.N. Messengers of Peace or the UNICEF Goodwill Ambassadors, both selected groups of prominent people (including classical musicians like Ma, Barenboim, Lang Lang, Maxim Vengerov) appointed to work in some general way to raise consciousness and bring about change.
These issues didn't fully come to the fore in the Ma piece because I felt that they turned out not to apply; Ma's activities are so fully bound up with his artistic explorations that he is not led to take stands on non-artistic issues. It's also true that Ma, unlike Casals or Rostropovich, is not living under a repressive regime to take a stand against. (Much has been written about the way that some artists have thrived precisely as a result of such resistance: Milan Kundera, for instance, whose literary output appeared to lose some of its impetus in the wake of the Velvet Revolution, once the system he had been pitted against had toppled.) But Ma seems in a way cheerfully a-political in the name of music; he's certainly played for both Republican and Democrat administrations without evident scruple.
What are your thoughts on artists and social responsibility — as distinct from political art, which is a whole different can of worms?

Anne Midgette | March 16, 2010
Weblink: voices.washingtonpost.com
Photo credits: sfbayview.com