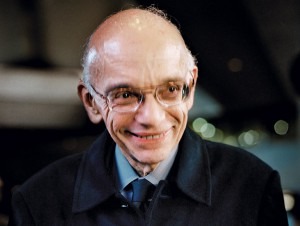 CARACAS, Venezuela (AP) — In the front row of the audience, an elderly man wrapped in a heavy coat listens intently to a youth choir, then stands and applauds enthusiastically.

The teenage musicians crowd around him, many wanting to pose for photos, shake hands and show their appreciation. Some ask: "Maestro, did you like it?"
The thin, balding man in bifocals smiles broadly, encouraging the singers and grasping their hands.
To many of Venezuela's young musicians, Jose Antonio Abreu is a mentor, an inspiration and a hero. The 72-year-old has revolutionized music education in Venezuela through his unique teaching program, El Sistema, which has been celebrated around the world and produced talents such as 31-year-old conductor Gustavo Dudamel, now music director of the Los Angeles Philharmonic.
The former congressman started the program nearly four decades ago, dreaming of giving poor kids the opportunity to immerse themselves in classical music. Today, his creation is flourishing as a nationwide network of orchestras.
"I have many musical children," Abreu said in an interview, chuckling at the phrase since he never had children of his own.
"In the future, there shouldn't be a single child or teenager left out of music in Venezuela. All provinces should be filled with choruses and orchestras, all of them. Daily life should be expressed in music."
Abreu's El Sistema, or the System, is formally known as the National System of Youth and Children's Orchestras of Venezuela, and has become one of the proudest achievements of a country that otherwise struggles with rampant violent crime, 26-percent inflation and bitter political divisions.
The program now involves more than 300,000 students, a remarkable number in a nation of about 29 million people. In small towns and cities, children and teenagers are learning the music of composers from Mozart to Mahler.
El Sistema received a boost in February when Dudamel dazzled audiences by conducting the Los Angeles Philharmonic in his homeland for the first time since becoming the orchestra's music director in 2009. The Philharmonic joined Venezuela's leading orchestra, the Simon Bolivar Symphony Orchestra, and a chorus of more than 1,200 singers in the Feb. 18 finale, performing Mahler's Symphony No. 8 in a broadcast shown live in U.S. movie theaters.
American actor John Lithgow, who hosted the broadcast, said he was in awe of the passion displayed by the Venezuelan musicians.
"It's completely miraculous the fact that in this troubled country, the one constant in the last 37 years has been El Sistema," Lithgow said. "It's all for the good of these kids. It's just astonishing. It's extremely inspiring. I've never seen such discipline in little children, discipline combined with joy."
Abreu said he doesn't plan to stop dreaming and wants to expand the program he has spent much of his life building.
At his desk in a small, glass-walled office at Caracas' premier concert hall, Abreu excitedly proclaimed: "What's happening here now with this Mahler project is an example for the world, and it's unique."
"And in the future we'll continue with projects like this one, with other orchestras and other countries," he said. "This is a process that's going to be … bigger all the time."
Abreu said he considers himself "a social worker, an artist who does social work for art and who dedicates his life exclusively to the youth and children of his country."
That passion was rooted in Abreu's childhood growing up in a musical family in the western Venezuelan city of Barquisimeto. His maternal grandparents immigrated from Italy bringing a collection of instruments with them, according to a book about Abreu and the orchestra program by journalist Chefi Borzacchini.
Abreu's grandmother sang opera to him, and his grandfather founded a band in their Andean farming town in nearby Trujillo state.
According to the book, Abreu said his house was the only one in the area with a piano.
Encouraged by his family, Abreu learned to play the piano and violin starting at age 9, "very late" in retrospect, he said. He later studied composing and also pursued non-musical interests, becoming an economist and eventually winning a congressional seat.
While he was a young music student, he became irritated that such education in Venezuela was confined to an elite, with few teachers and a lack of instruments for the poor, while countries such as Argentina, Brazil and Mexico had much more developed teaching programs. Young musicians in Venezuela who graduated from music programs, he said, "had no professional destiny."
"It made me furious that my country at that time couldn't reach the same goal," Abreu said. "We had to bring ourselves to their level and surpass it."
The result of that indignation was El Sistema, which he started in 1975. Abreu traveled the country founding orchestra after orchestra like a musical Johnny Appleseed.
Successive governments, including the 13-year-old administration of President Hugo Chavez, have provided financial support, as have private businesses and other donors. The program currently receives about $160 million a year from the government, said Eduardo Mendez, executive director of the Simon Bolivar Musical Foundation, which oversees the orchestras.
International recognition has been widespread, and programs modeled after El Sistema have sprung up from Scotland to Los Angeles.
Dudamel said in a 2008 interview with The Associated Press that Abreu's vision has made possible a program in Venezuela that is akin to a big musical family, and "he's like the fundamental pillar in all of this."
Abreu has struggled recently with health troubles, undergoing surgeries for kidney problems and hydrocephalus. As he climbs stairs, he steadies himself holding the arm of a colleague. But Abreu remains energetic and highly driven, attending performances and promoting the orchestras.
Abreu said he's confident the program will carry on without him because it's replete with younger leaders, administrators and teachers. In addition to Dudamel, who has become the program's star alumnus, Abreu counts on musician-managers who have spent their lives in El Sistema, including Mendez; Valdemar Rodriguez, the foundation's deputy director; and Victor Rojas, general manager of the Simon Bolivar Symphony Orchestra.
Asked what the program needs to keep thriving, Abreu answered: "We need the government to keep recognizing that music is a right of our children, that our facilities be all the more excellent the poorer the children."
Under Abreu's leadership, the Center of Social Action for Music was built in Caracas, and another modern music center with two concert halls and rooms for rehearsals will go up in Barquisimeto.
Mendez said the center will be designed by celebrated architect Frank Gehry, who is famous for iconic buildings such as the Walt Disney Concert Hall in Los Angeles and the Guggenheim Museum Bilbao in Spain.
Abreu said the new center's main concert hall will be named "Dudamel Hall" and cities across the country should have similar music centers.
"El Sistema is a utopia, with all the immense energy of a utopia, with all the beauty," he said.
For Abreu, music is about life writ large, instilling values that help children succeed outside of concert halls. Abreu's life, for one, has been guided by that vision.
"Music isn't just artistic expression. It's the whole concept of harmony, of cosmic harmony," he said.
"I've always dreamed of El Sistema proposing principles that are applicable to all other areas, including sports and also science … I have to recruit people who will accompany me in that. That will come."


Ian James (Musical America) / March 16, 2012


Weblink : http://www.musicalamerica.com/
Photo credit : http://www.elpais.com/