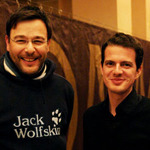 Andreas Scholl, arguably the world's most famous countertenor, has found a new way to stun his fans and anger his critics – with a daring approach to Purcell's love duets. He talks gender-bending and jealous sopranos with Tom Service.


The world of the countertenor is a weird, high-pitched place, where the possibilities of the male voice are pushed to Bee Gees extremities. Which is why I'm sitting in a swanky Paris cafe choking on my green tea. Andreas Scholl, probably the world's most famous falsettist, has just said: "I once told an interviewer I wanted to sing Carmen."
It is quite a prospect – but my choking is about to get worse. With the 43-year-old German is Philippe Jaroussky, 11 years his junior and the poster boy of French countertenors. "If you do," says Jaroussky, "I'll be your Micaëla." As the two stars collapse with laughter, I have visions of a sumptuous drag version of Bizet's opera, with Scholl and Jaroussky playing castanets and strutting about in flamenco dresses and fishnets.
It's probably a good thing they're joking – but these men are both pushing the envelope of what classical countertenors can do. Unafraid to upset his critics and surprise his fans, Scholl has recorded albums of folk songs and pop tunes in addition to the dozens of recordings of baroque and early music that made his name. Jaroussky's reputation is for Italian baroque, but he has also committed the heresy of singing 19th and 20th-century French songs – to the chagrin of traditionalists, who say he should stick to the baroque.
The two are at present immersed in a programme of Purcell duets with Jaroussky's own Ensemble Artaserse, which they bring to these shores tonight, thereby continuing Scholl's mantra of "doing things we're not supposed to do". It's rare enough that two of classical music's biggest stars should want to collaborate rather than compete, but they're also singing an evening of English lyrics – despite being non-native speakers. The programme includes numbers such as O Solitude and Music for a While, two of this country's musical gems: it is far from easy for foreign singers to make Purcell their own.
"English is not an easy language to sing in," Jaroussky says. "So it's crazy that the first time we sing this project in public, we're doing it in London." Scholl remembers his own battle with English early in his career. "There are some special colours that you really have to get right. I remember when I sang my first Messiah with conductor William Christie, I was given a comic strip of Zorro by one of the musicians, because he said I sang 'a man of Zorroz' instead of 'a man of sorrows'. It's tough."
Why Purcell? The choice was Jaroussky's, after Scholl mentioned two years ago he wanted to work with the Frenchman. "It sounds stupid," says Jaroussky, "but it took six months to come up with this programme. We could have had Italian chamber music, like Bononcini and Marcello, but I knew we were planning to perform in big halls, like the Barbican, so we needed something with a lot of variety."
Purcell's duets, written in the 17th century for countertenors, were the obvious choice, and Jaroussky has designed an ingenious programme that's a miniature drama in itself.
"It was fucking difficult," says Jaroussky.
"Print that!" says Scholl.
"I had 10 versions before I got the final order right," adds the Frenchman.
It seems to be working. "We have just been rehearsing," says Scholl, "and this concert is going to be such fun. It's great to do something different, whether it's singing with a pop band, or working with a colleague like Philippe. It has such . . ."
"Freshness," says Jaroussky. It seems they are now completing each other's sentences, as well as their musical lines. "There are a few virtuoso moments in this music," says Scholl. "What I love about singing with somebody you like is that the voices just click. It's not a conscious thing – it just happens. And it's so much fun."
It's a serious sort of fun, though. Jaroussky tells me about the duet My Dearest, My Fairest they are to sing. This, some of Purcell's most intense love music, is not usually sung by two men. "But it could also be 'my dearest'," he says, indicating that the term is directed at Scholl, "with 'my fairest' sung to the audience.'"
So the love isn't just between them both, but involves the rest of us, too. That's just one of the gender-bending dramas countertenors are routinely required to play. In the baroque repertoire, works were often written for a castrated man, who could be playing a female role (these are often sung by women today). To be a countertenor is to appreciate that gender is, essentially, a performance, and not something that's dependent on physical protuberances.
But, says Scholl, "there is still a discrepancy in perception – we will accept a love duet when two women are singing, but when I sing Dido's Lament, people say, 'You can't do that, it was composed for a woman.' But, excuse me, women sing the title role of Handel's Julius Caesar all the time, so what's the difference? It's about the humanity of all this music. Apart from our roles and our sexes, we are human beings. There are universal qualities in each of us."
And anyway, points out Jaroussky, there are no references to gender in the text of Dido's Lament. "You know," adds Scholl, "I sang Maria Magdalena in Scarlatti's John Passion, and it's not about travesty, it's about humanity. We had Cate Blanchett play Bob Dylan in the movies, and we have Katy Perry singing I Kissed a Girl and nobody has a problem. So why shouldn't Philippe and I sing a love duet? It doesn't have to be tacky or ambiguous. If our intention [is] sincere, it can be a great moment. We don't mean it as a provocation."
He goes on: "There's always this fascination about the countertenor voice. But I've never really understood what that is, because I'm doing it every day – it's my voice. Yet when we sing, people cry and we get love letters. You get used to that." He turns to Jaroussky. "But I experienced, for the first time, what other people feel when I heard your recording Opium. I got goosebumps. For the first time in my life – I'm serious, Philippe – I thought, 'A-ha! This is why people are so fascinated by our voices.'"
I'm surprised at how at ease with each other they are. "When we do a concert together, there might be some who will expect a kind of competition. But that's not what we want – and neither does Purcell. The thing is, the countertenor world is so small, and our voices are all so different, there's no need for us to be jealous of each other."
Unlike, say, sopranos? "Well, there is a difference between men and women," says Scholl. "Women have a tendency to be jealous." Jaroussky laughs. "You know, the headline for this article will be 'Andreas Scholl says: I prefer men – and I want to do Dido on stage!'"


Tom Service | December 6, 2010


Weblink: http://www.guardian.co.uk/