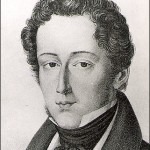 Monday, Feb. 22, is Frédéric Chopin's 200th birthday. That is, it's Fryderyk Chopin's birthday; the Polish-born, Paris-dwelling composer's name is more commonly spelled these days with Ys. And that's his birth date according to a baptismal certificate; the composer said he was born on March 1. Even 200 years after his birth, things that appear simple about Chopin are actually more complicated than they seem.


Including, and above all, his music. Chopin's piano pieces — all of his pieces involve the piano: no symphonies or operas here — are lyrical and lovely, poetic and, therefore, seen as accessible. Yet they can also be harmonically intricate, technically challenging.
His 24 Op. 10 and Op. 25 Etudes, far from being simple "studies" for students, are so difficult that the great pianist and Chopin specialist Artur Rubinstein avoided playing some of them. And they can be elliptical to the point of impenetrability (take the final movement of the Second Sonata: a whirling cloud of sound less than two minutes long). Taken together, Chopin's pieces represent a towering hurdle, the benchmark against which a classical pianist is measured — in part because of the difficulty of finding a way to plumb the music's depths while sounding simple.
* * *
"Proper" Chopin style is at once a seal of approval and the subject of endless debate. It involves lightness and clarity of touch, something evinced by one of the latest crop of Chopinistes, Rafal Blechacz, in his new CD of two rather conventional piano concertos. It requires a singing legato: the illusion that the pianist is creating an unbroken line of sound, like a human voice. This is particularly true in the Nocturnes, which are incessantly compared to the operas of Chopin's friend Vincenzo Bellini.
But Chopin style can also evoke the kind of stormy outbursts the young Martha Argerich gives in her just-released CD, a collection of previously unreleased radio recordings from 1959 and 1967.
Most important, and most elusive, Chopin style involves rubato — changing tempo or rhythm for expressive purposes. The question of rubato dogs Chopin performance. The composer was said to be quite free as a pianist, but it's not clear what this meant: There are indications that he kept a fairly steady left-hand beat at all times.
Still, generations of performers, following the misguided notion that a piece of music is a canvas upon which they are to express themselves, take Chopin's advocacy of rubato as license to slow down and speed up almost at will. Hearing a lot of Chopin — even in some cases very good Chopin — can leave me seasick from listening to too many phrases being stretched out as if going slowly uphill, then tumbling helter-skelter down again.
Chopin's music has sometimes been branded effeminate, or "salon music": not quite serious, not quite healthy, not quite German, since it departs from the structural conventions of the great Viennese classical school. Even the two powerful sonatas are unconventional, playing fast and loose with the structural conventions upheld by Mozart and Beethoven.
Indeed, some of Chopin's ardent defenders have implicitly bought into the idea that the music is weak and needs defending, trying to emphasize its seriousness (and manliness) by playing the works in sets — all 24 preludes, or the 24 etudes of Op. 10 and 25 — and thus casting them as long, weighty pieces rather than salon entertainments measuring three or four minutes long.
* * *
The view of the work as fragile and sickly is also linked to the pervasive idea of Chopin as a prototypical Romantic genius: pale and dapper, doomed to a tragically short life (he had tuberculosis), needing the care of a strong mother figure (his lover, best known by her literary pseudonym, George Sand), receiving the divine flash of inspiration at the keyboard (though a brilliant improviser, he labored over his compositions).
The work isn't fragile, though. Although Chopin himself was said to shrink away from too-loud playing, there's plenty in it that thunders and plenty that's assertive. It's also strikingly original. Chopin, unlike many composers of his day, wasn't under the sway of Beethoven. He abhorred, for instance, the start of the last movement of the Fifth Symphony; his primary influences were earlier, particularly Johann Sebastian Bach.
Like Bach, he wrote music in sets: for instance, the 24 Preludes, a set of short pieces in every key like "The Well-Tempered Clavier." And pre-Classical keyboard music was an influence in some of the forms he particularly developed — even the Nocturnes, that quintessentially Romantic expression.
Chopin pioneered other forms, as well, like the Four Ballades: long dramatic monologues without words, at the intersection of tone poems and sonatas. Particularly his own were the polonaises and mazurkas, based on the idea of Polish folk dances, that are perennially held up as an example of the expatriate composer's patriotism. Chopin took his Polish nationalism seriously, but he was also capitalizing on a perennial interest in local folk color that turns up in Mozart's "Turkish" concerto or Brahms's Hungarian dances. There's certainly nothing sissy about the A-flat Polonaise.
* * *
There's a hint of the pragmatic in Chopin's 19 waltzes, as well. When Chopin went to Vienna as a young man, before settling in Paris, he disdained waltzes as the epitome of popular bad taste and complained that it was impossible for a composer to publish anything that wasn't a waltz. He may have looked down on them, but he was practical enough to start writing waltzes — not, certainly, waltzes that one could actually dance to, but pieces that evoked the ballroom atmosphere, the whirl of gowns.
The waltzes seem to be getting particular attention this anniversary year. New recordings have recently come out by Alice Sara Ott and Ingrid Fliter, two pianists worth knowing about, and Dinu Lipatti's classic set from 1950 is going to be rereleased yet again at the end of March.
Listening to all the waltzes at one go is like eating a box of chocolates, leaving you feeling ever so slightly bilious; yet each of these recordings has its strengths. Fliter has a gorgeous, light, easy touch that appeals to me instinctively, but she gets a little carried away with the rubato, tugging at and prodding every phrase. Ott, too, sometimes sounds willful, but she has a wholesome directness. With a big sound that feels reined in, she embodies, in the Grande Valse Brillante in E-flat, the slightly coltish exuberance of a young girl at her first dance. In comparison, French pianist Alexandre Tharaud, who recorded the waltzes a few years ago, offers a drier, cooler approach: The playing is admirably clean and slightly distant, and very much a tonic after too much emoting.
The waltzes epitomize one of the hardest things about playing Chopin: walking the fine line between emotion and sentiment, between feeling something and looking back, fondly, on the way it felt. Chopin presages Ravel's "La Valse" in his expression of slightly ironic nostalgia. The dance forms Chopin used had particular connotations; his works were a kind of social commentary. Today, the nostalgia threatens to trump everything. One big secret of playing Chopin may simply be to remember that it's not as pretty as it sounds.
Arthur Rubinstein / Chopin Etude
Dinu Lipatti / Chopin Waltz
Alexandre Tharaud / Chopin Grande Valse Brillante

Anne Midgette | February 21, 2010
Weblink: www.washingtonpost.com/wp-dyn/content/article/2010/02/18/AR2010021806498.html