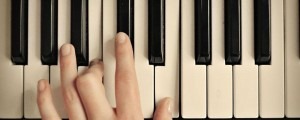 When Clemency Burton-Hill returned to piano lessons as an adult, she found herself in good company. Grown-ups everywhere are learning the instrument to relieve stress, focus their minds – and for the sheer joy it brings.

They say that youth is wasted on the young, but it's nothing compared to piano lessons.
When I look back at my younger self and remember how I battled against learning the instrument and how quickly I gave it up, I'm gnawed at by rage. Why, why didn't I practise when I had the chance? And why do I find myself in my thirties, suffering the mortification of learning the piano again, the indignity of being rubbish at something my eight-year-old self could do, the sheer misery of the difference between how I want something to sound and what actually happens when I play? Full story.
Clemency Burton-Hill (BBC) / October 21, 2014

Weblink : http://www.bbc.com/
Photo credit : http://www.bbc.com/