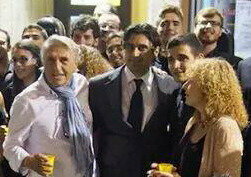 De la musique avant toute chose.
Paul Verlaine
Dr. Peter Hermes graduated from the Sorbonne Medical School and went on to specialise in psychiatry and neurology at NYU.

Since, he has been practicing on three continents, written over 50 articles about various neurological conditions, and given talks all over the world.

In 2005, Peter has decided to combine his passion for music by creating Music Fest Perugia along with his pianist wife Ilana Vered.

Music Fest Perugia is now in its 10th year of activity and has become the largest music festival for young people in Italy.

Apart from managing the Music Fest Perugia, Peter is also writing for the French Journal PerformArts, has written three books including one about Migraine, and hosts a "labo d'écriture" salon in Tel Aviv, Israel.