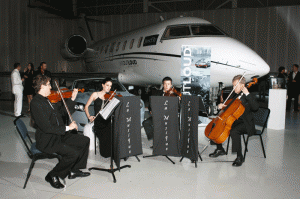 SAN FRANCISCO — Last month, on the day before Thanksgiving, Charlton Lee drove from his home in San Francisco to the San Francisco International Airport. He wasn't catching a flight, or picking up holiday houseguests. Lee, the violist of the Del Sol String Quartet, was heading to a performance.

For many musicians, airports are a necessary evil: a way station en route to appearances across the country and around the world. For a number of Bay Area artists, though, San Francisco's airport has become a destination in itself – an unexpected, decidedly alternative, place to perform.
"You Are Hear," a series created by and presented inside San Francisco International Airport (SFO), places musicians in terminals around the airport for one- and two-hour live concerts. Performances are free, and the audience is a freeform group of arriving and departing passengers, their friends and relatives, airport employees and music aficionados.
Now in its third season, the series seems to fit in nicely with the airport's other cultural attractions, including the SFO Museum and floating exhibitions by local and visiting artists. According to Michael McCarron, the airport's director of community affairs, the performances have been a hit.
"It's mostly during holiday season, and also during the summertime – our busiest travel times of the year," said McCarron. "People really seem to enjoy it. It's kind of a stress reliever. It gives them a nice little break.
"When I walk through the terminals during performances, I see kids sitting next to the musicians, listening. I think it takes the edge off." The airport conducts surveys among passengers, he adds, and "I haven't seen one negative comment yet."
The performances happen in pre- and post-security areas, and McCarron allows that logistics initially posed a challenge. "The pre-security areas have been no problem," he says. "In the post-security sites, we have had to work with the TSA and our security staff to let the musicians through the screening process."
The San Francisco-based Del Sol quartet was giving its third performance in as many years last month, playing an 11 a.m. to 2 p.m. time slot on the pre-Thanksgiving Wednesday – traditionally, the busiest travel day of the year. Lee, a founding member of the quartet, said it was a pleasure. "We were in international this year," he said. "That was the best area because it's fairly quiet – a lot of people on layovers just hanging out, so they'll come over and listen. One family actually came over from Oakland just for the performance."
The Del Sol players – Lee, violinists Kate Stenberg and Rick Shinozaki and cellist Kathryn Bates Williams – gave them plenty to hear. In three sets, the quartet performed works by Lou Harrison, Astor Piazzolla, Gabriela Lena Frank and Elena Kats-Chernin, among others. Next year marks the quartet's 20th anniversary.
There are drawbacks, he noted: airports are noisy, and people don't tend to stay put. "We definitely go in with that in mind," says Lee. "It's just part of the atmosphere."
In the end, though, Lee thinks it's not that different from many concerts, where audiences arrive stressed and relax into the music. And he says the crowds have been surprisingly receptive. "It's very positive," he says. "People say they really appreciate being able to hear some music while they're waiting. We get a lot of questions. They buy CDs, sign up for our mailing list."
The "You Are Hear" series features a mix of artists; in the coming weeks, appearances by the Magik*Magik Orchestra, the International Orange Chorale, harpist Naomi Hoffmeyer and new music group Clarinet Thing are also scheduled.
Lee says he fully intends to return to the series a year from now. For one thing, he says, won't have to catch a plane to make the performance; afterward, he can get in the car and drive home.


Georgia Rowe (MusicalAmerica.com) / December 6, 2011


Weblink : http://www.musicalamerica.com/
Photo credit : http://www.airport-int.com/