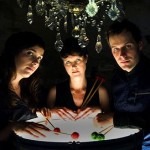 Forget Old Europe. Contemporary classical music takes its cues from around the globe. When it comes to classical music, for most people Europe is the epicentre of the tradition. If asked to imagine the sound world of a Russian piece for, say, violin and piano, it would not be a stretch to think of beautiful sweeping melodies accompanied by lush harmonies on the piano, a la Tchaikovsky.


What, then, would listeners make of a new work by the young Russian composer Georgy Dorokhov in which the violin and piano sound like a bizarre combination of white noise and a malfunctioning laptop? It will be given its Australian premiere at the 2010 International Society for Contemporary Music World New Music Days, which begin today – the first time the 88-year-old festival has been held in the southern hemisphere.
No doubt about it, Tchaikovsky will be turning in his grave. But contemporary Russia is so different from that of the 19th century, how could one expect anything else?
New classical music is in a period of unpredictability. For much of the 20th century there was the "right" sort of music to compose, especially within the classical world. If a composer wanted to write a new string quartet, for example, it needed to be of a certain musical language to be taken seriously by the musical establishment.
The exciting thing about new music at the opening of the 21st century is that the barriers to music creation are breaking down. This is having a significant effect on the types of music that composers from all over the world are creating.
For a start, there are more composers writing music now than at any time in history. Numerically speaking, most of the world's composers are songwriters or electronic musicians, using the incredible growth in technology to record and disseminate their material. They need not know music theory or even how to play an instrument, as computers can facilitate incredible sound worlds in much less time than it takes to learn the clarinet.
If we are willing to forgo the need for live performance, the barrier of geography is no problem, either. Plenty of music is, in fact, being written for online delivery, designed to be consumed at home or on the move rather than in the concert hall. A composer from Lithuania can hear Australian performers playing Australian music from the comfort of his or her living room – and his or her music might then display the influences of the Australian music on the other side of the planet.
We live in a cultural world where anything and everything is possible. This can only be a good thing for artistic expression. In the World New Music Days concerts, these expressions may range from a piano trio from New Zealand referencing French music to a radiophonic piece based on Canadian snowstorms, to a piano "remix" of Beethoven's Fur Elise by a Brazilian composer now based in Germany.
The great thing for audiences is that there is more musical choice than ever. Whether I am listening to my students at the Sydney Conservatorium of Music, or assessing submissions to the Music Board of the Australia Council, the enormous variety in musical interests of even a small group of people is overwhelming.
This change must also be driven by the change in society. For much of the past 30 years, there have been many complaints about the obscurity and low approachability of new classical music. But I sense that this is now old-fashioned. The white European-based monoculture has been shattered in Australia in a way that composers of the 19th century would find inconceivable. We take for granted the enormous diversity in food, for example. Why would classical music be any different?
So what is the future of classical music? After assessing the 700 submissions for this year's festival, it is clear that Old Europe no longer has the domination on creativity and innovation. There is no reason why a musician in Korea, Venezuela, Estonia or Australia will not provide the impetus for the next global trend in contemporary music. You may hear a new piece of music that will change your life at the Campbelltown Arts Centre or on your iPod on a downloaded concert from South Africa. It may even be a new work for violin and piano from a young Russian composer.

Matthew Hindson | April 30, 2010
Weblink: smh.com.au