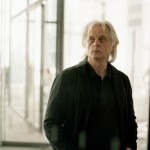 Manfred Eicher, the founder of the German classical and jazz label, has demonstrated for decades a level of foresight and intuition that has allowed him to discover talent and cross-pollinate a wide range of styles.

Spend enough time pondering ECM, a revered German classical and jazz label celebrating its 40th anniversary, and you are tempted to ascribe mystical powers of foresight and intuition to its founder, Manfred Eicher, such are the strands of continuity and serendipity that wind through its history.
Intense and youthful at 66, Mr. Eicher studied the violin while growing up in Munich, until he fell under the sway of jazz at 14 and took up the double bass. In Berlin he worked in an orchestra conducted by Istvan Kertesz and went on to play dates with German free improvisers and American visitors like the saxophonist Marion Brown. An avid collector of jazz LPs, Mr. Eicher became interested in making records himself.
"I went back to Munich from Berlin and got an offer from a record shop owner to produce a few records," he said during a recent conversation at the headquarters of Universal Classics, ECM's American distributor. "We got a loan of 16,000 Deutsche marks, which was $4,000 at the time, and so we started a company." Calling the label Edition of Contemporary Music, Mr. Eicher proclaimed his intent from the start.
Beyond its usual meaning, the title of the first ECM release, "Free at Last," by the American pianist Mal Waldron, also alluded to Mr. Eicher's break with his classical music past, he said. Mr. Eicher has since played a key role in documenting dozens of progressive jazz musicians. Some artists featured on his early releases – the pianist Keith Jarrett and Paul Bley; the saxophonists Jan Garbarek and Evan Parker; the drummer Paul Motian – still record for ECM.
For artists, and for consumers as well, part of the appeal has been Mr. Eicher's emphasis on state-of -the art sound and a cool, spacious aesthetic, with evocative cover art and intelligent liner notes. This approach, which helped ECM to build a following among aficionados and audiophiles alike, has inspired several books and countless imitators. Even now, with music consumption increasingly shifting from physical objects to digital downloads, Mr. Eicher releases still retain a sense of being coherent objects of art.
As it happened, Mr. Eicher's efforts to contact artists he wanted to work with coincided with a break period in recording prospects during the 1970s. Mr. Jarrett had been dropped by Columbia Records during a notorious purge that jettisoned legends like Thelonious Monk and Charles Mingus. A severe distaste for corporate bureaucracy prompted Mr. Jarrett to respond to a letter from Mr. Eicher proposing collaboration.
"He had n idea that didn't interest me, and I wrote back and said what did interest me, " Mr. Jarrett said from his home in Oxford, New Jersey. "There was no 'Go to this office for the back photograph, go to this office for the liner notes, talk to this guy about the cover.'" The appeal, he added, was "that I'm working with one person who is in charge of his side of the equation, and I'm in charge completely of the other side, and we have to jointly make decisions about everything to do with the release."
One of Mr. Either's proposals, a trio with the bassist Gary Peacock and the drummer Jack DeJohnette, was realized in 1983 and became Mr. Jarrett's most durable group. But what interested Mr. Jarrett in 1971 was playing solo. His ECM debut, "Facing You," set the stage for a partnership in which Mr. Eicher also booked Mr. Jarrett's trailblazing, fully improvised solo recitals. One such event, issued on LP in 1975 as "The Köln Concert," become ECM's first substantial hit: a hippie staple that sold more than 3.5 million copies.
Mr. Eicher encouraged artists to collaborate. Codona, a trio with the trumpeter Don Cherry and the percussionists Collin Walcott and Nana Vasconcelos, was a stylish precursor to world-jazz hybrids that would flourish at ECM and elsewhere.
Mr. Jarrett thrived on the creative freedom ECM provided ad the trust it demonstrated. Mr. Eicher recorded him in jazz groups and in solo recitals on piano, organ and even clavichord. Mr. Jarrett's chamber music and orchestral compositions were also recorded. Nor was Mr. Jarrett the only artist tugging Mr. Eicher back toward classical music. When Deutsche Grammophon declined to release a seminal recording of Steve Reich's "Music for 18 Musicians" that Mr. Eicher had produced, he released it on ECM and followed it with two more LPs of MR. Reich's music. In 1981 Mr. Eicher began a lasting collaboration with the singer, composer and choreographer Meredith Monk.
A chance encounter provided impetus for the next step. "On the radio I picked up some music I'd never heard of and left the autobahn to get better reception," Mr. Eicher said. "A year later I found out this was Arvo Part. I didn't know what that music was, and it was fascinating. I had to search for it."
Mr. Eicher was so moved by what he heard that he went to meet Mr. Part in Austria and came away determined to make a record. The resulting album featured performances by the violinist Gidon Kremer, the composer Alfred Schnittke and – another instance of Mr. Eicher's penchant for cross-pollination – Mr. Jarrett. Once again heralding his own stylistic realignment with an allusive title, in 1984 Mr. Eicher named the first entry of his ECM New Series after one of the Part compositions that it included, "Tabula Rasa."
That disc, which brought Mr. Part's music to a global audience for the first time, initiated another lasting collaboration. "Just like in a group of improvising musicians," Mr. Part wrote in an e-mail message, in which "each artist is ready and capable of catching and handing over the flow of sounds on the fly, a certain creative substance grew between Manfred and me, a cognition, which is quite hard to put into words."
Connections soon proliferated. After working with the renowned British early-music vocal quartet the Hilliard Ensemble on one of Mr. Part's discs, Mr. Eicher invited the group to record works by Perotin, Gesualdo and others. For one of ECM's boldest pairings, in 1994, Mr. Eicher had Mr. Garbarek, the jazz saxophonist, improvise as the Hilliard Ensemble sang Renaissance works. Their disc, "Officium," hit the European pop charts. A second album, "Mnemosyne," followed in 1999; another sequel, "Officium Novum," is due in 2010.
Now, after 25 years of largely hewing to the margins of the repertory with Renaissance consort music and contemporary symphonic works by Giya Kancheli, Tigran Mansurian and Valentin Silvestrov, Mr. Eicher has found ways to present standard works in performances that maintain ECM's idiosyncratic flair. A new disc of Paganini's Opus 1 Caprices by the violinist Thomas Zehetmair has become a critical and popular success. The pianist Andras Schiff, who recently completed a live Beethoven sonata cycle on ECM, has just issued a set of Bach's keyboard partitas. And the pianist Till Fellner has recorded Bach for Mr. Eicher as well.
Mr. Eicher's instincts run contrary to common practice in some ways. At Mr. Fellner's request Mr. Eicher recently recorded him in Beethoven's Piano Concertos Nos. 4 and 5 with the Montreal Symphony Orchestra conducted by Kent Nagano. "I have no intention to go deeper into it," Mr. Eicher said. "But if a musician really wants to do it, and it makes sense to me, I'm ready to go for it as long as he also introduces the contemporary side now and then."
Ad for what might draw a seasoned artist to Mr. Eicher's stable, Mr. Schiff, a veteran who spent 5 years with Teldec and 12 with Decca, echoes Mr. Jarrett's view. "You must know the old joke," he wrote in an e-mail message. "What's a camel? A horse designed by a committee." Manfred Eicher is alone responsible for all decisions. He doesn't have to consider corporate judgment. To me ECM is like the best publishing house, representing quality, artistic integrity, without compromises."
Part of that uncompromising approach comes from Mr. Eicher's insistence on being an active, at times even assertive, participant in recording sessions.
"A music producer, as I understand it, should be a trained musician in order to work with musicians, the psychological aspects," he said. "To be in front of the microphone, alert to things, and be able to talk about intonation, phrasing and musical structure is very helpful. If you are a musician changing from one said of the microphone to the other side, to the control room, you're a good listener, a patient listener."
The violist Kin Kashkashian, a New Series stalwart discovered (like Mr. Part) through a radio broadcast and approached (like Mr. Jarrett) through a personal letter, saw that process in action when she and Mr. Mansurian recorded "Hayren," a 2004 disc combining chamber works by Mr. Mansurian with music by Gomidas, a venerated preserver of Armenian folk songs.
"When we were doing the Gomidas, he never said a word, nothing," Ms. Kashkashian said of Mr. Eicher in a telephone interview from Newton, Massachusetts. "When we worked on Tigran's contemporary compositions, then he was very involved. The main point of this is about Manfred and his uncanny ability to sense the needs of the situation: personal, psychological and artistic. Somehow he combines these things and feels it and comes up with a calibration of activity that works for everybody. It's extraordinary."
Steve Smith | December 30, 2009
Source: International Herald Tribune (Print)
Photo credit: userserve-ak.last.fm