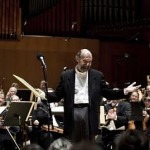 Australians played an important role in bringing to life a rare new symphony from Arvo Part, writes Harriet Cunningham. Silence. It has been a recurring theme in the life and music of one of the world's most revered composers, Arvo Part.


Born in Tallinn in Estonia in 1935, Part grew up in the shadow of Soviet authority. In 1960, when he began writing music that openly reflected his Christian faith, his work was censored for stepping across ideological and cultural boundaries.
But silence also came from within. In the late '60s, after following the tenets of modernism – including atonality and complexity – Part found himself in a creative dead end. He ceased composing and buried himself in the study of the roots of Western music, including Gregorian chant and Renaissance polyphony. He was to emerge from this self-imposed silence in 1976 with a new voice, inspired by his studies.
His "tintinnabulist" style, as he calls it, strips away the note cluster bombs of modernism in favour of simple chords, long held notes, pure tones left to ring in the air. As Part has said, "I have discovered that it is enough when a single note is beautifully played". It is not an intellectually fashionable stance, perhaps, but no matter. The music has a glowing beauty, making him one of the most adored and admired composers of modern times.
Then there is the silence within his music. "Composed silence," as Sydney Conservatorium's chairman of conducting, Imre Pallo, calls it.
"It is not that your fingers have to move fast or anything, but that the sounds have this ethereal quality. It's hearing the other musicians, hearing yourself into the piece. The difficulty is more with the listening than the playing … he describes silence."
Tonight, the Sydney Conservatorium of Music gives the Sydney premiere of his fourth symphony, the Los Angeles Symphony. This colossal work is a joint commission between the Los Angeles Philharmonic Orchestra, the Sydney Conservatorium and the Canberra International Festival of Music. It is Part's first work for orchestra since 1971, and at more than 30 minutes the longest instrumental work he has ever written.
So how is it that Australian musicians have become involved with this important work? It was premiered in January last year by the Los Angeles Philharmonic, under the baton of Esa-Pekka Salonen. Chris Latham, the director of the Canberra Festival, who was instrumental in brokering the Australian involvement in the commissioning, was in Los Angeles for the rehearsal and performance. When the work came to Canberra for its Australian premiere Latham was in constant contact with Part (who is in poor health and rarely travels outside his home town of Berlin), fine-tuning the work.
"I had a call from him every day for a week with various alterations," Latham says. "He's an amazing guy … He says very little but he is one of the most insightful people I've ever met.
"I have never known a composer … more meticulous with details. It is the reason why the pieces are so perfect. He polishes them to mirror-like perfection."
The Los Angeles Symphony comes to Sydney as part of the 101 Compositions for 100 Years project, an ambitious commissioning program which leads into the conservatorium's centenary in 2015. Each year between now and 2015, musicians at the Con will perform new works written for the various student ensembles and teaching staff (many of whom are leading performers in their field).
Matthew Hindson, the chairman of composition, says: "There's everything from orchestral pieces through to a sonata for every instrument, works for big band, choir, etc. There may even be a couple of operas in there. I don't think any other institution in Australia [outside funding bodies and, possibly, Musica Viva] has commissioned 101 new works. It reflects the Con through its audacity, and its contribution to Australian music-making.
The concert is also a prelude to the Conservatorium's annual open day on Sunday, when the doors are thrown open to the public. There will be free back-to-back concerts all day, featuring a variety of musical genres and styles, at outdoor stages around the grounds, which adjoin the Botanic Gardens. Inside the iconic Greenway Building, originally built as the Governor's stables, there will be mini concerts, roving minstrels, talks on aspects of music research and study, a treasure hunt and theatre performances themed around the Governor Lachlan Macquarie and Mrs Elizabeth Macquarie Bicentenary Celebrations.
There will also be the opportunity to hear Emma-Jane Murphy play Elizabeth Macquarie's own cello in yet another premiere. This time it is from Peter Sculthorpe. He has writtenRemembering Mrs Macquarie for cello and didgeridoo, in honour of the NSW Governor, Dr Marie Bashir. It will be the historic cello's first outing for 196 years.
Says Pallo: "We take great pride that composers of this quality and standing in the music world are including the conservatorium as a performance venue and commissioning force for their works. [The Los Angeles Symphony] was written for three organisations: the LA Phil, the Canberra International Music Festival and the Con. I feel we cannot be in better company."
The Sydney Conservatorium Chamber Orchestra performs Arvo Part's Symphony No. 4 Los Angeles today at 6pm and tomorrow at 4pm. The Conservatorium Open Day is 10am-4pm on Sunday.

Harriet Cunningham | March 26, 2010
Weblink: smh.com.au