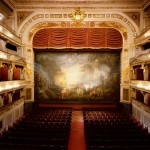 Vienna, the jewel of the Hapsburg Empire, calls forth vibrant sights, sounds and tastes – Wienerschnitzel, Sachertorte, Café mit Schlag, Karl Luger-era architecture, the Prater. Of course, Vienna means music: it was the home of Haydn, Mozart, Beethoven, Schubert, Brahms, the extended Strauss family and countless others. And Vienna means opera.


Vienna has been an important center since just after opera sprang forth from the Florentine Camerata laboratory in the early 17th century. The first Viennese performances of Italian operas took place in the 1640s. Vienna has an incredibly rich lyric heritage, but also maintains its status as a thriving, active, world-class center for opera and all things musical today.
Says Marion Deshmukh, professor of art history at Washington's George Mason University, who is leading a group of students on a Great Cities Tour that includes Vienna: "When I take students to Vienna, I highlight two important time periods: around 1800 and 1900. At the beginning of the 19th century, Metternich, fearful of the ideas of the French Revolution and Napoleon, saw music as an important political diversion for the population, distracting them from potential 'mischief.' During the congress of Vienna, he scheduled many musical events and concerts, including opera. Later, Stefan Zweig wrote about Vienna, circa 1900. Because of its diminishing political and military power, it invested heavily in matters cultural. This affection and love for musical culture continues to this day."
Vienna and its operatic institutions, the Staatsoper, the Volksoper, and the Theater an der Wien, have had special relations with leading composers, works and music directors. Mozart wrote three of his greatest masterpieces for Vienna: "The Marriage of Figaro" in 1787, "Cosi Fan Tutte" in 1790 and "The Magic Flute" in 1791. Beethoven wrote three versions of his only opera, "Fidelio," in and for Vienna. He even lived in the Theater an der Wien for a while.
Johann Strauss, the Waltz King (and operetta king) wrote "Die Fledermaus" for Vienna in 1874. The annual New Year's Eve performances at both main houses are a prized tradition to this day, and sell out long in advance. Other performances continue in January, and tickets may be available.
Richard Strauss and Hugo von Hofmannsthal's "Der Rosenkavalier" is the most Viennese opera, though it was premiered in Dresden. The lilting, waltzing score owes a real debt to the fact that after "Salome" and "Elektra," Strauss fell in love with the music of his infinitely lighter Viennese namesakes (no relation) Johann and Oscar. Strauss was music director of the Staatsoper from 1919 to '24. Other conductor illuminati include Gustav Mahler, Karl Bohm and Herbert von Karajan.
Along with the big houses, smaller but thoroughly charming local spots sometimes offer light opera and operetta. Sitting at long picnic tables in a wine cellar and drinking white wine from earthenware pitchers while listening to the delicate tunes of Oscar Straus's "Ein Walzertraum" is an unforgettable Viennese experience.
While in Vienna, music lovers can visit a wealth of sites of interest, from St. Stephen's cathedral, where Haydn and Schubert were choirboys, to the house where Mozart wrote "Figaro" and the numerous dwellings of Beethoven, Schubert, Brahms and the Strauss family.
Opera is a year-round affair, except in July and August, when the main houses close and the action moves to the Salzburg Festival. Several tour agencies specialize in opera. Arblaster & Clarke of Hampshire, U.K., offers a four-day "Vienna: Wine and Opera" tour April 20-23, 2010. H.A.T. Tours of St. Petersburg, Florida, and Copenhagen, has a 12-day "Sounds of Central Europe" package starting May 5, 2010, with operatic performances in Vienna, Budapest, Prague and Dresden.

December 30, 2009
Source: International Herald Tribune (Print)
Photo credit: eventim.com