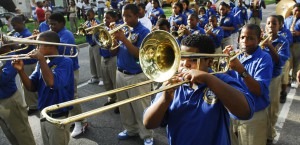 The power of music to change lives is incalculable. Recent neurological research has shown that music education can provide children with tremendous cognitive benefits that follow them far outside the realm of music. Music can also be a tremendous resource in addressing poverty and closing the achievement gap. But too often it's seen as little more than a diversion, an expensive hobby that people in struggling communities cannot enjoy. Nothing could be further from the truth — nowhere is music more necessary.

Thankfully, there are a number of organizations and people around the world working to make sure that everyone, no matter their background or lot in life, has access to music. Through their efforts, they're proving that, no matter the circumstance, music will find a way.
1. In Paraguay, an orchestra makes instruments from recycled materials.
Cateura is a small, impoverished town in Paraguay built on top of a landfill. Many of the town's residents make their livelihoods by picking through the trash to find scrap metal and cardboard to sell. While visiting the town to help residents come up with new ways to sort trash, Favio Chavez, an environmentalist and longtime music lover, started a music school to give the kids a diversion while their parents worked the landfill.
However, "A violin is worth more than a recycler's house," Chávez told the Guardian. "We couldn't give a child a formal instrument as it would have put him in a difficult position. The family may have looked to sell or trade it." So, with the help of craftsman Nicolás Gómez, the two built instruments out of scrap metals and recycled materials to create the Cateura Orchestra of Recycled Instruments.
"The saxophones and trumpets are made from old drain pipes, the keys were once coins and bottle caps. This drum skin used to be an X-ray plate, the guitar from dessert tins," reports Bob Simon in a 2013 60 Minutes segment on the town. But the children prize their instruments all the same. "I don't care that my violin is made out of recycled parts," young musician Ada Rios told the Guardian. "To me, it's a treasure."
The orchestra has had a tremendous impact on the community, and it now plays at world-class venues around the world. A documentary telling its full story will premiere March 18 at South by Southwest.
2. Self-taught musicians travel miles to play in an orchestra in the Congo.
The Congo is one of the poorest countries in the world — the poorest by some measures — but music thrives there. The capital of Kinshasa is home to the only symphony orchestra in Central Africa and "the first all-black one in the world," according to the BBC. Many of the musicians have to make tremendous sacrifices to attend rehearsal, many traveling miles and bringing their children with them. Most of its members are self-taught, including the orchestra's founder, Armand Diangienda.
In the early days, the orchestra barely had enough instruments to go around. Albert Matubanza, the orchestra's go-to instrument repairman, had to fix broken violins using whatever materials he could find. He used bicycle brakes for violin strings, inventing his own tools to aid him in repairs. With the music, players created a haven apart from the country's poverty and wars. In December 2014, the orchestra celebrated its 20-year anniversary. Now Diangienda is looking to expand his musical outreach to open the first professional classical music school in Kinshasa.
3. A young Mexican orchestra creates instruments from trash.
"The Orquesta Basura was founded as a game, but also as a shout of desperation," Fernando Lopez, the band leader of Mexico City's Orquesta Basura, told Fusion. "I was 18 years old when I started to make instruments. We didn't have the money to buy instruments, but that wasn't going to limit us." Lopez and his band La Orquesta Basura got their start by building their instruments out of junk sold in the open air trash markets of Mexico City — cardboard, cans, PVC pipe, broken appliances and more.
The band has gained a bit of a following and recognition, receiving the Mexico City Youth award in 2011 for achievement in culture and the arts. But despite their prize money, they've still haven't started purchasing instruments
4. In Argentina, experts teach children to build their own instruments.
Hacelo Sonar is an Argentinian workshop initiative that teaches children and adults to craft musical instruments from recycled materials. Founded in part by percussionist Luis Miraldi, the program was created to empower youth by providing them artistic outlets. They instead taught people how to build and maintain their own instruments, so they can continue their own musical explorations long after the program moved on and took their instruments with them.
Before long, Hacelo Sonar signed a contract with Argentina's Secretariat of Culture, which helped bring their workshops to even more locations and as many as 25,000 people.
"For us, it is also an enormous reward to leave, for example, a slum and see as we walk around that the kids are still making sounds with the guitars they made," Miraldi told Global Press Journal. "With that, it is enough — we already have our pay."
5. El Sistema makes a musical life a reality.
El Sistema is a music education outreach program developed in Venezuela more than 40 years ago by conductor and activist Jose Antonio Abreu. The program, which is free, provides the neediest children in the country with equal access to high quality musical education.
The program's supporters claim its musical training helps children develop "soft skills" such as "focus or memory or inhibition, even attention," Stanford Thompson, chairman of El Sistema USA, told Mic. "These basic skillsets are difficult to teach within a 45-minute class each week. That's why we think it's really important for these kids to play music multiple hours each day and have them playing in ensembles immediately, not waiting until they've mastered half of their scales."
El Sistema puts emphasis on children playing together in orchestras and ensembles as a way to build these skills. "In its essence the choir and the orchestra are much more than artistic structure: They are examples and schools of social life," Abreu said in his acceptance speech for the TED prize for innovation in 2009. "That's how they build a spirit of solidarity and fraternity among them, build their self-esteem and foster the ethical and aesthetical values related to music in all its sense."
6. Around the world, Musicians Without Borders brings divided people together in bands.
Musicians Without Borders uses music to establish a neutral space for people who have been divided along political or ethnic lines to meet and bond over their shared interest. Their mantra — "war divides, music connects" — has been true everywhere from Eastern Europe to Palestine.
"A lot of organizations who are trying to work at reconciliation do that primarily by organizing projects where people are brought together … to talk about their differences. But they're still being labeled by their differences, even if it's meant in a positive way," Laura Hassler, founder and director of Musicians Without Borders, told Mic.
But Musicians Without Borders is about sharing music. In Mitrovica, Kosovo — an extremely divided city — Rock School allows ethnic Serbs and Albanians to cross ethnic boundaries and develop their creative faculties together. The Mitrovica Rock School was so successful it became its own local-run Kosovo NGO in December 2012.
"What we also see in places we work is there's nothing for kids to do. The schools are bad, there's no leisure-time activities, there's a lot of hanging around or drug abuse or petty crime through boredom." Hassler said.
"When kids get themselves into a rock band and have to know three songs by next week then they work really hard. And then you see this wonderful feeling of empowerment and self-respect coming in. And when anybody feels empowered then there's much less need to dehumanize or debase the other."
7. Play On, Philly helps kids get to college with music.
Play On, Philly is an El Sistema-inspired program operating in West Philadelphia, providing daily music education to students who would otherwise have little access to it — kids who, by the time they enter kindergarten, are already behind.
"You can pretty accurately predict which of these kids are going to graduate from high school or not," Stanford Thompson, chairman of El Sistema who is also the founder and artistic director of Play On, Philly, told Mic. "Specifically, in Philadelphia these kids that are not achieving academically … have a 40% of graduating from high school and about an 8% chance of graduating from college."
By giving these children additional outlets to develop their focus, memory and executive functions, Play On, Philly helps close this gap. It's already proven to have a powerful impact on the students who take advantage of it. The program ran a study with St. Francis de Sales School in 2012-2013, randomly assigning some students to participate in Play On, Philly and assigning another group to an after-school tutoring program. They found that "students enrolled in Play On, Philly exhibited better performance on tasks of executive functions, higher levels of academic achievement and higher rates of school attendance (prosocial behavior) than students not involved in the program."
8. The Harmony Project uses music to close the achievement gap.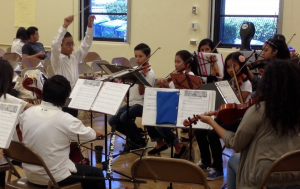 The Harmony Project provides free music education to students from some of Los Angeles' poorest and highest crime areas. According to its website, the project seeks to help children develop into "musical ambassadors of peace, hope and understanding amongst people of diverse cultures."
What's most amazing about the program is the groundbreaking work in music science it's producing. In collaboration with Northwestern University, the Harmony Project showed that music could help close the achievement gap between students of different socio-economic backgrounds. Studying the brains of children who took music lessons with the Harmony Project for two years, Nina Kraus, director of Northwestern's Auditory Neuroscience Laboratory, found tremendous development in the areas of the brain responsible for sound processing and verbal abilities.
"These findings are a testament that it's a mistake to think of music education as a quick fix, but that if it's an ongoing part of children's education, making music can have a profound and lifelong impact on listening and learning," Kraus said, according to the Huffington Post.
Proof of these incredible gains can be found in the Harmony Project's numbers. Since 2008, 90% of the Harmony Project's children have gone on to college — an amazing statistic considering that the high-school dropout rates in the Los Angeles area can reach 50%.
9. Tipitina's Foundation brings music back to New Orleans.
The New Orleans music scene was hit hard after Hurricane Katrina. It has taken years to get the clubs running and musicians working again. The storm also ruined many school districts' stores of instruments. And with no money in the Recovery School District's budget for instruments, it was bleak for a time. But the Tipitina's Foundation, run by an old music venue, has done incredible work helping the city get its swing back.
The foundation is the charitable arm of the club Tipitina's "the most famous musical haunt in a city famous for its music," according to the New York Times. Since 2003, Tipitina's has provided musical instruments to schools through the program Instruments A Comin'. They raise money through benefit concerts and donations and purchasing them at a "deeply discounted rate" from local shops.
Tipitina's also runs free Youth Music Workshops, connecting middle school and high school students with professional musicians for impromptu jam sessions. One of their innovative programs is a series called Music Office Co-Ops, which fully equipped workspaces for aspiring musicians and filmmakers who would not otherwise be able to afford them.
"There's a perception that music and art are frivolous, but kids who play music do better in school and stay out of trouble," Todd Souvignier, cofounder of Tipitina's Music Office Co-Ops, told Nola.com. "We want to make sure all kids have the chance to play music."
Tom Barnes (Music.Mic) / March 11, 2015

Weblink : http://mic.com/
Photo credit : http://mic.com/