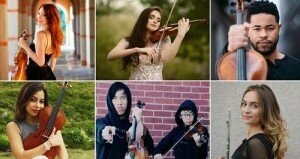 Whether you're a long-time aspiring musician or you're looking to kickstart your career in music this year, here are some tips on how to succeed from the best musicians on the Internet.

1. Be yourself
It's a lot easier said than done, but the truer you are to yourself, the greater chance you have at being an online music sensation.
"So many people are trying to be someone else or emulate someone else's lifestyle on social media and it's refreshing when you find a person who is completely and honestly themselves," says Chloe Trevor, a violinist with 146,000 followers on Instagram. "There is only one you – let the world see you shine!"
So if like Chloe, you're feeling poorly and want to post a video of yourself playing Mendelssohn's Violin Concerto in a unicorn onesie, you should definitely do it. Full story.
Maddy Shaw Roberts (Classic FM) / January 9, 2018

Weblink : https://www.classicfm.com/
Photo credit : https://www.classicfm.com/