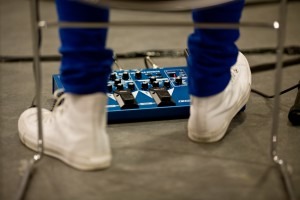 New tech tools that give students control over their music also inspire them to create and innovate.

Integrating technology into the music classroom can be a real challenge. For one thing, students don't have desks, so any device with a keyboard presents a logistical problem. Nevertheless, the potential payoff is big. By introducing virtual instruments and digital composition, teachers are empowering students to innovate in ways that were unimaginable 10 or 20 years ago, and are making their classes more engaging and interactive.
Yet some teachers still teach music courses much the same way they were taught in the 1950s. According to Christopher Russell, director of choirs at Oltman Middle School in St. Paul Park, MN, "Those teachers can be very successful and have very good programs, but they are missing out on tools that could help their students become better musicians." On the other hand, he added, "You can't force it on anyone, and if you do, it ends up being a tremendous failure."
When Oltman Middle School introduced a 1-to-1 iPad program in the fall of 2013, Russell was a step ahead of most teachers in other disciplines. He had already been using iPads in class for three years on a limited basis. "I already had the pedagogy figured out and I knew which apps I was going to use," he said.
Using Tablets Instead of Paper Music
Russell said he believes that the number one use for a tablet is as a substitute for paper music. Having the music in digital format has many benefits, including the fact that students no longer lose their music. "Talk to any music or band teacher, and they will tell you that is a huge issue," he said. With the music in digital format, students can access apps to annotate their scores. Russell can send students audio recordings that they can play along with as they practice. His students can use a music-writing app such as Notion to make their own practice tracks and compose their own songs. "That is a complete redefinition of what you do with students," he said. "It was inconceivable before they had these devices."
Russell said he is also excited about a relatively new app called NotateMe, which allows him to write musical notation and convert it to digital notation. The app also allows you to take a picture of a score and convert it to digital music. This means that music teachers can now scan music without expensive software and scanning equipment, he said. "I have used the app with students to compose music and also to dictate what they hear," he explained. "The free version allows a student to scan a single line. That might allow band and orchestra students, who get music with one part, to scan their music and edit it, either to hear what it should sound like, or perhaps to create their own music based on their own part."
Although he knew what he wanted to do with students, Russell admitted that there have been challenges with the 1-to-1 iPad program. Last year, the biggest issue with sixth-graders was students getting distracted by playing games such as Minecraft. "There is no teacher that can always be as exciting as Minecraft," he said, "so at some point, kids are tempted to make bad decisions. The tools we have to deal with that are getting better. Apple has done a lot at the back end to fix those problems, and so have the mobile device management companies. Ours is Casper, and it allows you to lock students into a specific app."
Helping Kids Compose
Amy Burns, an elementary school music teacher at Far Hills Country Day School (NJ), said she started using technology because she thought it could help young students do things they couldn't do traditionally. Composing music with very young students can be difficult, even though it is among the New Jersey state music standards, she said. "But now with tools such as NoteFlight, second- and third-graders can create wonderful melodic compositions and play them on their recorder," she said.
Besides helping with composition and creation, technology can also enhance performance. Burns has students use Orff instruments such as xylophones and glockenspiels, but she also downloads virtual instrument apps onto an iPad and plugs them into the sound system. She doesn't use an autoharp in class because of the challenges of keeping it tuned, she said, "but the virtual autoharp enhances our ensemble beautifully. Virtual instruments are wonderful for students who have difficulty mastering fine motor skills. They are participating in the classroom and feeling so successful," she said.
Burns also uses tech tools to help with assessment. She uses an app called iDoceo to capture student performances. "In my instrument class, I record them in iDoceo and they can see their three performance tests throughout the year and how much they've improved," she said. "That redefines your classroom as you stop using paper and pencil for assessment."
Rehearsing Via Social Media
Looking back over her 14-year teaching career, Lori Pirzer, director of bands and music teacher at Oak View Middle School in Newberry, FL, said she can see how much larger a role technology plays now. "When I started we didn't have any technology or Internet access in the classroom at all. To check my e-mail I had to go to a media center on campus," she said. But seven years ago, Oak View became a technology magnet school and she started to get tools such as smartboards and software. "I am not sure I could teach without technology now," she said.
Pirzer now uses her Epson BrightLink interactive projector in conjunction with Smart Notebook collaborative learning software and apps such as TonalEnergy Tuner, which lets users understand and improve every aspect of their sound. Pirzer projects an image from the projector onto the whiteboard, which allows students to use the tuner. They can see if they are sharp or flat, and if they are playing in time. She also uses a program called SmartMusic, which offers students feedback on their performance. They can see the correct and incorrect rhythms and pitches onscreen. "I used to say, 'Put your finger on measure 3; I want you to circle it,' " she said. "This allows me the freedom to circle and notate on the board things that are in their music."
Pirzer also uses the Edmodo social media platform to communicate with her students and parents. She gave a recent example: "My symphonic band is taking a chair test. I just finished uploading it on Edmodo," she said. "Each section has a different piece of music, so I went to a program called Finale and created a sound file by inputting the music. I create MP3 files and post them on Edmodo. Students use their smartphone, tablet or technology at home to listen and practice with the sound file." She also has a few young composers who write music using NoteFlight and post their compositions on Edmodo for the other students to listen to.
Because she teaches in a technology magnet school, Pirzer finds that her students often innovate themselves. She had one student make his own pitch generator on a circuit board. "If you are going to teach at a technology magnet school, you have to be very open and adapt to it," she said. "To me, it speaks their language. You can use pen and paper or do old-school games, but when you put it in a video game setting, the kids have a lot of fun with it and learn really quickly."
Reworking Published Arrangements
Dan Schultz, who teaches middle school strings and general music at J.P. Case Middle School in Flemington, NJ, sees technology as a key tool in helping students become more creative. Many students go through a classical music education, he said, but they might never improvise or do composition at all. "They will just play notes off a page. It is not terribly creative," he said.
In his general music class, held in a 30-station music technology lab, Schultz has new students use programs such as GarageBand or Soundation to work on percussion compositions. "We create rhythms that work together and grooves that work in different genres," he said. "We record that into GarageBand and have them create loops." He then adds a unit on melody, then one on harmony. Students put those together in a multitrack recording with one line of melody, one of harmony and several lines of rhythm. The students can record, edit, save and revisit, assess and improve it. "That ability to revisit the music over a few days is awesome," Schultz said. "The process of revision is game-changing and easy."
Traditionally, orchestra students learned skills on their instrument but played other people's music. Schultz is having his students rework musical arrangements and try their hand at composition. "Last year we were playing a published arrangement and the ending was terrible," he recalled. "So we experimented with how to compose a different ending." At a concert the students used the ending they wrote. They learn how to load the music into NoteFlight and use a template to re-write sections of a piece. Since then, some students have started doing arrangements on their own during lunch on their iPads, he said.
"In seventh grade, we put the building blocks in place in terms of working with the software; then in eighth grade we take the leash away and give them the freedom to try more imaginative things. The ownership level changes dramatically," Schultz said. "They are interested in creating a piece, but they also want to have the skills to pull it off."
Schultz said he realizes that many of his students will not become musicians or play music after high school. "But hopefully they will become more creative, because that can carry over to so many areas," he said. "An engineer who doesn't have creativity is going to be lacking something."
The number of devices and apps for music is growing exponentially, and the array of choices can be overwhelming. Amy Burns from Far Hills said that some music teachers are given an iPad and are expected to use it as a teaching tool right away. "First you need to open it up and experiment just for you," she said. She suggested looking at music apps and finding one that might substitute for and improve on something you're already doing in class. Then once you get your feet wet, you can consider moving on to more sophisticated uses. "It can change the way you teach music," she said, "but you have to be ready to do that."
Extra Credit
5 Tech Tools That Teach Music
Created by nonprofit music-media organization Listen for Life, Travels With Music is designed to introduce students to world cultures, using music as the gateway. The multimedia program explores the richness and diversity of 15 world cultures through the use of 300 video and audio segments.
Sibelius is a tool for learning and teaching music notation, composition and music theory. Educators can use its more than 1,700 built-in teaching resources and its classroom management features. Students can purchase a scaled-down Sibelius First to use at home.
Noteflight allows teachers and students to edit, display and play back music notation in a Web browser. The software is integrated with an online library of musical scores.
Aimed at 10- to 15-year-old students, O-Generator uses popular and world music to teach key music concepts. Students can learn and play along to original modern, Latin and African songs.
Music-making application Soundation4Education helps students create and record in school and at home — with full access to their work from any location. Students can manipulate existing audio loops or learn to record their own loops and then mix, add effects and build up tracks.
David Raths (THE Journal) / December 3, 2014

Weblink : http://thejournal.com/
Photo credit : https://www.musicalfutures.org/